Posted on 05. Feb, 2012 by admin in Easter Season, Featured, Luke's Gospel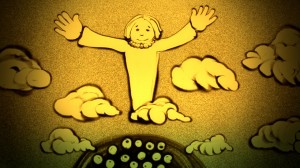 Featuring four sand art/animations telling the Easter narrative from the gospel of Luke.
* The last supper, gesthemane, betrayal of Jesus from Luke 22:1-46,
* The arrest, trial and judgment of Jesus from Luke 22:47 – 23:25,
* Jesus on the Cross from Luke 22:26-56,
* Jesus' Resurrection and Ascension from Luke 24:44-53.
Save money and time with this bundle.
SD (Standard Definition)
Price: US$32.95
Quicktime Movie (.MOV)
NTSC (640×480)
Total Length of 4 Videos: 20:03
Total Size of Collection: 669mb
Purchase through Paypal with Credit Card or your Bank Account

HD (High Definition)
Price: US$35.95
Quicktime Movie (.MOV)
1280×720
Total Length of 4 Videos: 20:03
Total Size of Collection: 1836mb
Purchase through Paypal with Credit Card or your Bank Account

Other options for purchase:
WorshiphouseMedia.com